Case Study: Thurl Baley:
We decided to keep the overall original concept, so that the updated version of the "Big T" logotype capitalizes on any equity that the original logo might have, while showing more stylized features. The "T" has a more typographic look, which reinforces the brand essence (Big T). The silhouette figure has been stylized as well and made to look leaner and taller, monumental if you will. The idea is to portray a giant performer and leader who can inspire others.
Stemming from Thurl's Big TLC Foundation, the ArenaMan Project is about the gathering of a community of men from all walks of life inspired to love, live, learn, teach, and especially to serve.
The use of solid colors and dark hues, adds a sense of serenity to the end result. We used dark values that are closer together to give the design a unifying and harmonious effect. Also, by combining a symmetrical positioning of the elements, and asymmetrically associating the size relationship with the intensity of the colors we can achieve the right over-all balance.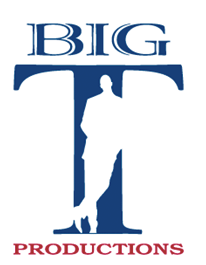 .