Case Study: Thurl Baley:
The Arena Man Project:
The Arena of life is portrayed by a stylized version of the Colosseum where the classic warriors proved their true valor. The design is meant to portray the courage that a true ArenaMan needs to stand upright, all alone, in the arena of life. He stands naked, only armed with inner strength and personal values, reflected in the shadow he projects, setting an example.
The logo also reflects that he has been placed there by a power above himself and is subject to the values, challenges, and conditions thereof.
The type treatment also links to classic Rome. The typeface has been slightly "roughened" by the struggles of life. The word Man is also capitalized to portray the bigger-than-life nature of the individual. He is modeled after the Son of Man (exalted being) and follows in his footsteps.
The color of the icon represents the clay or the essence from which we are all built. It shows respect for the individual as well as his environment. The typeface color represents the steel of his character.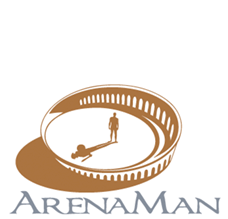 .